Energy Program
We are accepting applications for Energy Assistance. Please call (203) 748-5422 for a phone interview and to receive an application information.
How is eligibility determined?
Household Size
Gross Annual Income
1

$39,027

2

 

$51,035

3

$63,044

4

$75,052
June 30, 2022 is the last day to submit an application for the Connecticut Energy Assistance Program (CEAP)
and the Low Income Home Water Assistance Program (LIHWAP).
CAAWC will be accepting applications for the season of 2021-2022 the following ways:
In-Person, Over The Phone, Email, Mail and Pick Up at Office
Fuel delivery or authorizations deadline is Tuesday, May 24, 2022.
Last day to submit deliverable fuel bills will be Tuesday, May 31, 2022.
The last day that a household can apply to establish it's eligibility for benefits is Thursday, June 30, 2022.
Electric, Natural Gas, Oil, Kerosene, Wood, and Wood Pellets CAAWC will be taking applications until June 30, 2022, the link below is where you can find the application to submit with the backup documents for processing.
Categorical eligibility has been expanded for households:

o  Bill-payers who receive one or more of the following: Refugee Cash Assistance; State Supplement for the Aged, Blind, or Disabled; or Temporary Family Assistance (TFA) are eligible for a Level 1 benefit

o  Bill-payers who receive SNAP are eligible for a Level 2 benefit

o  Supplemental Security Income (SSI)
The Liquid Assets Test is suspended for the 2021-2022 CEAP program year.

Risk Assessments for Safety Net benefits are suspended for the 2021-2022 CEAP program year.

30% threshold requirement eliminated to Rental Assistance
Households.
Energy Assistance Program and Water Assistance Program
Below is the link to apply for the Energy Assistance Program and the Water Assistance Program for the towns covered by The Community Action Agency of Western Connecticut, inc. You can either apply online or call our office to set up an appointment, the deadline to apply is June 30, 2022.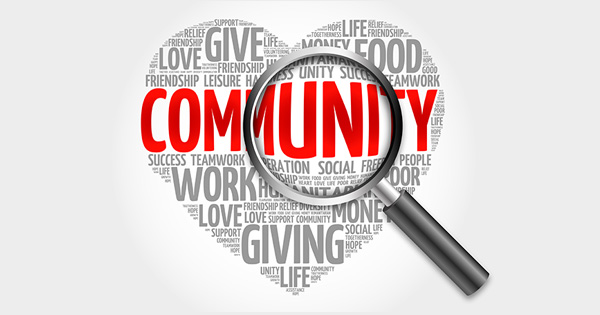 Community Action Agency of Western Connecticut has been helping people, improving lives and strengthening communities since 1965. Get connected with one of our programs as our overall mission is to serve low-income families and individuals by identifying and using community resources and services to promote long-term self-sufficiency and independence.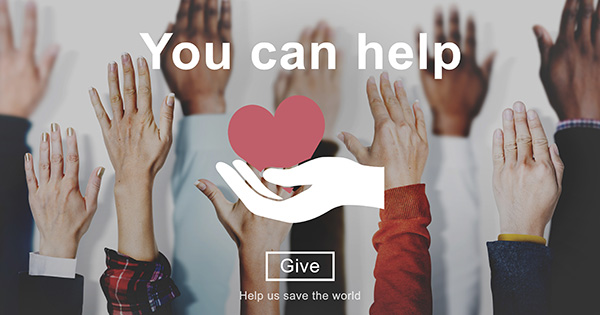 CAAWC relies on the generosity of donors like you who care deeply about providing a meaningful life for each person and family in our community. Learn more about how you can give back.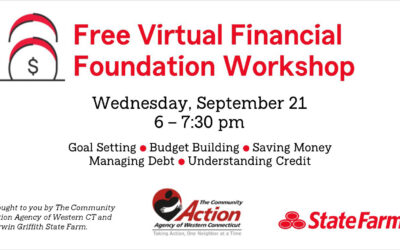 Free Virtual Financial Foundation Workshop Wednesday, September 21 6:00pm–7:30pm Goal setting Budget Building Saving Money Managing Debt Understanding Credit Register in advance for this workshop:...
read more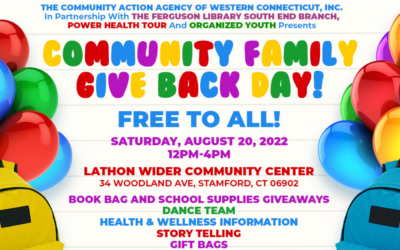 Community family give back day! Free to all! Saturday, August 20th, 2022, 12pm-4pm Lathon Wider Community Center 34 Woodland Ave, Stamford, CT 06902 Book Bag and School Supplies Giveaways Dance Team Health & Wellness Information Story Telling Gift Bags Kids...
read more
One of the marvelous things about community is that it enables us to welcome and help people in a way we couldn't as individuals. When we pool our strength and share the work and responsibility, we can welcome many people, even those in deep distress, and perhaps help them find self-confidence and inner healing